| | |
| --- | --- |
| Product: | Power Retouche Photoshop Plug-In |
| Function: | Photoshop Plug-in Suite (20 filters) |
| Compatibility: | Any program capable of understanding the Photoshop plug-in architecture. |
| Company: | Power Retouche - www.PowerRetouche.com |
| | Download the PC demo here. Download the Mac demo here. |
| Reviewer: | Mark Larmand |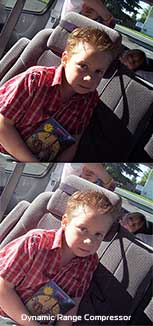 ON THE FLIP SIDE...
Right off the bat i have to say i'm very impressed with this new plug-in suite.
After using only a few of the filters I realized just how much power they provided the user.
Reading the list of available filters, you'll notice that the suite focuses strongly on the most common issues faced by photographers and graphic artists in general; even those into Web design. The majority of the filters provide such a wide variety of settings and control over the effect they produce, that you could no doubt spend a lot of time just fiddling and testing the effect range of the filters. I also noticed right-off that some of these filters are not unlike those found in Photoshop's native collection. And can produce virtually identical results, but have even more controls to use.
Some of the filters require the user to experiment a fair bit in order to understand all the controls provided, but you'd have to do with any new program so i don't think that's a viable complaint. Besides... that's something I enjoy doing with filters.
I also noticed that with a lot of the filters I could produce some special effects, not completely possible with PS's native filters. I consider this a bonus, because that's not the initial intent of these filters. I've included one such "special effect" here, that took only a few minutes to find. It was done using the Exposure filter. So i advise a heavy dose of experimentation with these filters. There's no doubt countless other effects to be had with them; aside from what they're designed to do.
(click these examples for a larger view)
I know it appears at first glance that this is a simple effect that can be done with Photoshop, but look closely at the level of detail and cleanliness of the lines. Feel free to try and duplicate this effect as easily with just Photoshop.
One of my favorite plug-ins, as a Web designer, is the "Golden Section" (Divine Proportion) plug-in. Here's what it does:
Draws the fibonacci sequences: Golden Section, Golden Spiral and Golden Triangles.
Draws the two common harmonies: Rule of Thirds and Harmonic Triangles Draws the two common harmonies: Rule of Thirds and Harmonic Triangles.
Freely adjust the rectangle to any size within the image boundaries Freely adjust the rectangle to any size within the image boundaries.
Rotate or flip the divisions any way you like Rotate or flip the divisions any way you like.
(click these examples for a larger view)
Here's a screenshot of the plug-in.
Not only do i think this is a real asset to any designer and a real time saver as well, it's not something you normally see in a plug-in suite.
ON THE FLOP SIDE....
Aside from the excellent quality of the filters, the suite does have a couple minor bugs to be squashed.
If you're using a special theme enhancing programs with Windows, you'll have a specific bug to deal with. But this 'bug' has more to do with the theme enhancing software than Power Retouche. For half of the filters, the interface window is not scaleable. If you try to scale the window, to see more of your photo at once, the bottom and right sides will virtually disappear. Leaving you with no controls and no way to exit the window other than dragging the top-left corner inward to scale the window down and bring back the lost controls. I've provided a screenshot of what this looks like, and circled in yellow the effected window edges. The culprit theme enhancing software here is StarDock's "WindowFX" - (window shadows).
(click for a larger view)
Here's a list of the filters that are effected by this graphic anomaly:
Black Definition
Dynamic Range Compression
Edge line
Exposure
Noise Filter
Posterizer
Radial Density Corrector
Sharpness
Soft Filter
This ugly effect is also applicable if you try to maximize the filter window using the maximize button at the top right of the window. If you do this, to test it yourself on the demo, then you'll have to double-click the title bar to return the window to its starting size. Otherwise you'll have no way to close/dismiss the window.
The good news here is that this snafu
in no way
effects the working functionality of the plug-in suite. It's just a minor irritant, and as far as i'm concerned it's not a big deal.
The other minor bug deals only with the PC version. It has to do with the zoom function in the preview window not working 100% correctly. The company ensures there will be a solution for this issue as soon as possible.
CONCLUSION
PROS
Excellent plug-in suite with tons of editing power, and a wide range of abilities covering the most common problems found in photography and general graphic design. Plus, some of the filters that are similar to Photoshop's native collection have even more controls than those found in PS and can produce virtually identical quality results.
CONS
Aside from the couple of minor bogs mentioned, i see little to complain about with this product.
FINAL CALL
I'm going to give this new suite an excellent 4.5 out of 5 stars.
When they fix the minor bugs then we can add that last half star and make it a clean sweep.
I highly recommend folks checkout this product.
Mark (aka theFounder)...