Hi guys,
First post on here and hoping you guys can help.
I have started a new job doing 360 product photography for a company. The previous guy didn't leave much of a handover and I'm more of a video guy than photographer, so my Photoshop skills need to grow! The guy was using a Canon 5d and taking pics at 5760 x 3840. He appears to be then removing the backgrounds, replacing with a white solid and resizing the images to 1024 x 1024 for uploading to the companies e-commerce site.
He left a few screenshots of the process, this being the most helpful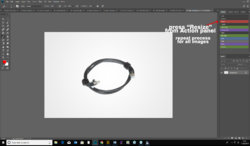 My problems are as follows.....
If I try to resize these images this obviously throws the aspect ratio out. So, I assume, he must of been cropping the images.
It seems he was using Actions to do this. The Action in question, is missing from Photoshop, and I can't work out how a crop action could be applied to a set of photos where the object in the photo may get a corner cropped out due to it being photographed at different angles.
Is it possible that the Action is hidden somewhere in Photoshop and I might be able to locate it and save me a heck of a lot of trouble?
I hope this all makes sense and will be grateful of any advice.
Cheers guys