Hi gurus, I'm a new member and I'm in need of serious help. I'm working on a very important poster and it's due tomorrow. Something happened and I'm not sure if I accidentally did something, but CTRL+Z or CTRL+ALT+Z just wouldn't undo the "damage".

There's a "C"-looking tile pattern on my document. I figured this is present on layers with transparent background. Each leaf is an individual layer. Hiding one leaf layer also hides the pattern surrounding the leaf object. This is the same for text layers. Also, I can erase the pattern. But I don't want to do that much erasing because this is a HUGE document and I'm already losing my sanity every time I make some changes.
I honestly don't know what's wrong. I thought it was a program glitch, but the pattern also appears on the saved image file. Duplicating some layers to a fresh document didn't help as well.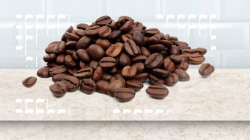 Look at those tiles of C's. That's a screenshot of a portion of the new file. I duplicated the coffee layer, which is of a transparent background. The image backdrop has no C tiles because it's a solid image stretched across the canvas.
I replaced the backdrop with a black canvas. You can see the supposed transparency around the coffee beans. At the lower right corner, I tried to erase it.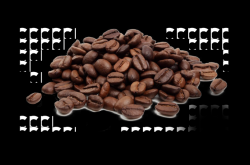 But when there is no background layer at all, just the coffee PNG layer, it looks like this.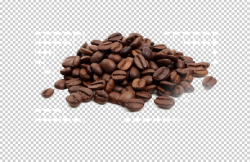 I don't find them on blank layers though.
PLEASE HELP. Thanks in advance.
Edit: It's only the existing files in that document. Adding new image layers with clear bg are not affected. Please dont advise me to do it all over again
Last edited: