Hello Photoshop Gurus,
I haven't been using PS enough to be good at it yet.
I've got a picture for which I'd like to remove the ugly sign in the upper right background.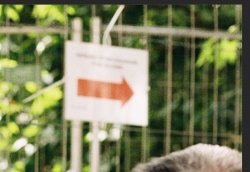 Since the sign is on the fence, I'd like to preserve the pattern of the fence. Yet since its soft focus, it makes it more challenging.
Is there a way to use the rectangle tool to use one edge as a mask in order to limit the clone stamp tool or healing brush tools. Allowing the re-recreate the foliage between the fence bars.
Or is that too complicated as approach?