So just wanted someone to photoshop the logo "UNM College of Pharmacy" with the same exact font as the one on the coat, except done so in a straight line. It needs to be big enough for me to upload onto Medelita to order my embroidered lab coat. It's not a big tip but just something to show my appreciation. FYI, just something to show my appreciation for doing this for me. I completely ruined my lab coat, and my school charges a $60 replacement fee...so just wanted a nicer lab coat if I'm going to be spending money on a new one. Thanks.
P.S. Remember, the embroidery should be something like this: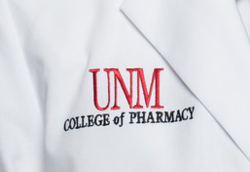 See how it's crooked? Since the photo was taken at an angle...it should be straight,
Here's a picture of what I'm talking about:
https://flic.kr/p/W133Ve
Also if you go to the photostream you can see more pictures of the same lab coat.
Will send you a tip through PayPal, Venmo or bitcoin...whichever you prefer. Send me your preferred method to receive payment as well only after I approve of the picture. If you can show me what you did, and how you found the right font I'd greatly appreciate that too. Thanks again.