I'm having an Exporting issue in both LR and PS. Curiously the Export As preview window in PS is already accurately showing the tone differences between what it is going to spit out vs what the main image in PS/LR shows. Easier for you to see from the screen grab provided. Essentially we're losing reds or magenta's, the flesh of the women is more rich (and her hair) compared to what Exporting from LR or Save As in PS or Export As in PS gives.
Things I've tried.
Confirmed working spaces are same, LR and PS are on the same page, both ProPhoto (LR and PS are not changing colours between applications, 'Edit In>PS' from LR for example is fine and PS is showing the same colour tones/image etc)
Tried toggling out of 16bit and into 8 bit in PS, no change, problem persists
Ensured exporting every way is using sRGB (LR as well), still persists
Tried changing PS to be sRGB and not ProPhoto, no change, issue persists.
Toggling Embed Color Profile, no change.
And tried a heap of other changes that I forget, but always the Export As is showing quite a strong difference to final image.
At this point I am at a loss as to why the Exporting is changing things...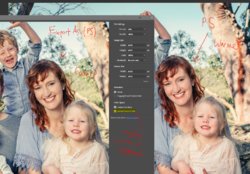 Any ideas?
Adobe Photoshop Version: 20.0.5 20190605.r.83 2019/06/05: 1206907 x64
Number of Launches: 728
Operating System: Windows 10 64-bit
Version: 10 or greater 10.0.18362.329
System architecture: Intel CPU Family:6, Model:14, Stepping:3 with MMX, SSE Integer, SSE FP, SSE2, SSE3, SSE4.1, SSE4.2, AVX, AVX2, HyperThreading
Physical processor count: 4
Logical processor count: 8
Processor speed: 2592 MHz
Built-in memory: 16273 MB
Free memory: 8932 MB
Memory available to Photoshop: 14887 MB
Memory used by Photoshop: 60 %
Alias Layers: Disabled.
Modifier Palette: Enabled.
Highbeam: Enabled.
Image tile size: 1024K
Image cache levels: 4
Font Preview: Medium
TextComposer: Latin