Hi, I'm Jas and I'm from the UK
So, I'm very new to Photoshop although think I'm catching on quickly. I do some modelling so I thought I'd start learning to edit my own photos, I'm really enjoying the process actually.
That said, my friend has sent me a photo she wants me to edit and it's giving me a massive headache. I've managed to do the fiddly bits like making the bits of hair more defined so I can select them etc.
However now I've finally done all that, the selection tool is driving me insane. On googling it tells me to reset it which I have..
Basically I can't see the moving dots around it unless I'm clicking the button - and I can't deselect parts either. It's driving me round the bend - and now it's decided to select the whole picture including background and won't let me deselect it, whilst also disappearing if I am not clicking the mouse button.
Help?!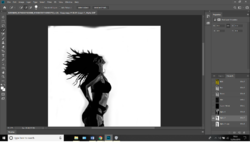 Last edited: