Hello everyone!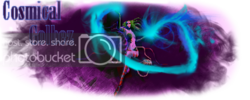 The first time I ever took a dive into the world of photoshopping it was part of my enthusiasm for Final Fantasy: Dissidia, a game released for the PlayStation Portable, aka PSP. Above you can see the result of that experience (CosmicalGolbez was an online buddy). A forum was rather enthusiastic about this game and it was there I first joined in on the photoshopping passion. Creating signatures with game characters, finding unique fonts, and all that stuff got me engrossed in both the game and the community in a way I'd never experienced before. Suffice to say that photo editing comes with good memories.
I don't swim often in the photoshop pool, but I do enjoy an occassional dip. The main reason I've joined these forums is to hunt for other graphic artists, perhaps make a few connections along the way. If everything goes according to plan I'll be spending more time here to learn some more tricks in Photoshop for fun, and perhaps even in some collaborative work. For now I'm working on a game as a continuation of a student project, I'm in my first year at the University of Skövde, Sweden.
Hopefully we'll get to know each-other as time passes here, but I probably won't be one of your most active members. With that said, I still hope I'll manage to participate in more ways than one.
Cheers,
Dan