hi everyone,
im new to photoshop and struggling to develop my idea alone.
essentially i would like to use this image of a mushroom spore print, and incorporate the name of my new business "shroom cycle" behind the image. Also if possible somehow include some subtle indication of a circular cycle of growth, from spore to mushroom, perhaps even a mushroom right in the middle..
I would like the text to be white and keep the print as near to black/brown/purple as possible. I've been trying to camouflage the text in the white behind the spore print, to give a sort of wavey and hidden appeal. Obviously the text needs to be readable but im struggling to get the feel of it right. Heres my best attempt.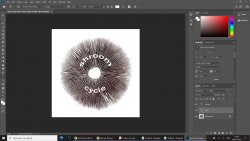 If anyone has any advice or is even able to hash out a few designs that would be amazing! i've attached the original spore print image incase anybody is happy to help