Hi there!
I am stuggling for a few days with an exercise I found on internet, but I do not manage to do it, and the owner of the tutorial does not answer my calls!!!
The web site I found is in French, and I also have a French photoshop (version 2020), but here is what I need to do (I'll try to find the good words for each function)
Create a text box with a word.
Add a shadow and a gradient incrustation (ok up to that!)
Add a mask (which I understood must be a vectoriel mask for text, right??)
On this mask, add an ellipse to make the texte appear slowly from the bottom, and add lines so that the text appears to be cut in several places.
I attach the result that I am supposed to reach.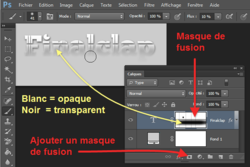 My questions:
I don't manage to draw on the mask as I could on a fusion mask. I managed to create something on the layers (as shown after), but then I cannot transform it to a vectorial mask,
And even when I managed to draw on the vectorial mask, I cannot control the width of the lines or the places of the things I draw once they are drawn, so for example, I cannot move the lines once they are drawn to check their place or the space between them.

Please help me, it is driving me crazy!!!
Thanks a lot!
Emilie