Hi all,
I am new to Photoshop, however, I was hoping to use it to plan and visualize some mosaic tile projects before getting started with the physical medium. Therefore, I am looking for a method to:
1) Create a grid (usually of squares, sometimes rectangles or triangles) to overlap on a blank document of varying heights and lengths. There could be anywhere from 50 to 100 squares needed across the length and height separately.
2) Easily be able to fill in color to each square separately with one click.
3) Because the grid will actually represent the grout in the mosaic, ideally I would be able to change the grid line widths and color.
I have read many posts and blogs and watched many videos. I was able to follow the instructions in this video to create the grid relatively easily, however, the grid squares do NOT fill in as expected using the paint bucket tool: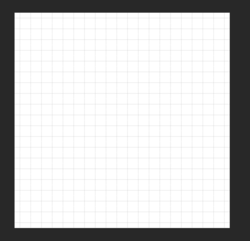 I watched another video where video where the person used the rectangle tool to draw a separate square within the grid. I am hoping that there is a one-click method of assigning colors to each square. Any assistance is appreciated.