A stupid and pointless (but also kind of cool) composite involving my Minecraft avatar.
My younger siblings recently got me back into playing Minecraft. I completely redesigned my avatar and everything so I could have a fresh new start and begin playing together with them. I don't know why this idea popped into my head, but I decided to try a quick little composite of my new Minecraft avatar on the real world. (I skinned, posed and lit the character manually in Blender, but the actual character rig is not mine - it came from rymdnisse.net and was made by Nils Söderman.)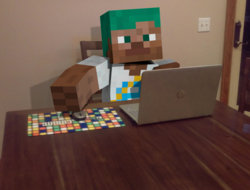 I rendered the character in Blender, and the rest was done manually in the 2D editor in Affinity Photo. If anyone has any advice/tips on how I could have made this better, please do share them; I have very little experience with this sort of thing and I would love to know your thoughts.