Hi Guys!
I'm looking for a solution to generate multiple ads for my e-commerce store, 1 Template / Multiple pics and texts for e-commerce
I have many products on my catalog and want to make a simple ad with fixed template with my logo and over this template, change texts and pics (picture of the product with it's description and price) using one CSV file.
Something like this but automatically: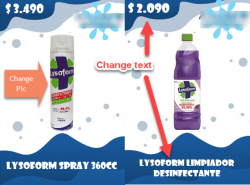 Anyone knows one solution for this??
Thanks and stay safe !