Hi, I am using Photoshop CC 2018 and I am following a tutorial online to create a beautiful text effect.
I am now at the point where it asks me to right click my text layer and click on create a new path.
My problem here is that the person who made this tutorial was using an older version of photoshop then the one I am using. So what it tells me to do is not available in my version at least not the way he is telling us to do it in his tutorial. So I did look around and found in one of the upper menus that in the "type menu" there is the option"create work path" but for some reasons, it is locked or unavailable because I can't click on it. I did select the text layer and click on the type menu but the "create path" is still unavailable to press on it. So I don't know what else to do. What can I do to make it available? I am joining a picture of what the option looks like right now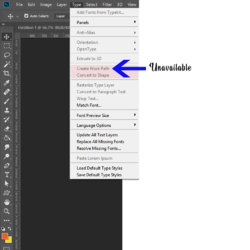 So what can I do to make it available so I can finish what I was doing? Here is the link to the tutorial I am following if it can help you more figure out how to help me
https://textuts.com/colorful-retro-text-effect/
.
ALSO, I AM A BEGINNER IN PHOTOSHOP I DON'T KNOW MUCH ABOUT IT THAT IS WHY I AM FOLLOWING TUTORIALS. SO MAKE SURE TO DETAIL YOUR RESPONSE SO I CAN FOLLOW WHAT YOU WILL TELL ME TO DO. OTHERWISE I MIGHT NOT UNDERSTAND.
Thank you in advance for your time.
Kokinette26
Last edited by a moderator: