Hi all, and thank you in advance to anyone who decides to take on this project.
I've been wondering for ages if it would be possible to have someone with Photoshop skills work their magic on this picture of my (now ex) girlfriend and her motorcycle. Today I figured I'd work the google and am super excited to have come across this forum - it's exactly what I was hoping for! Pretty exciting.
What I've had in mind all this time is to give this picture kind of a 'neon cyberpunk' or futuristic look and I've attached a couple stock images to sort of give an idea of what I mean by this.
Here's the original photo: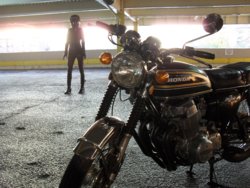 And here's what I had done using my limited skill with Google's photo editor: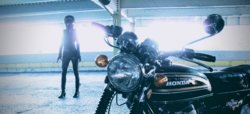 Obviously that's pretty lame but I have to admit I still like it. lol You'll notice I removed the HART sign on the back wall above the motorcycle seat, if possible, please do the same.
I'm hoping one of you can give it a more extreme make-over along the lines of these next couple examples, keeping in mind that I'm also shooting for something with that sort of panoramic aspect ratio.
My plan is to have something printed out maybe 36" wide and hang it in the room where I do my cycle training as kind of a motivational thing.
Here are the example images: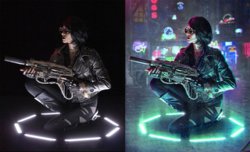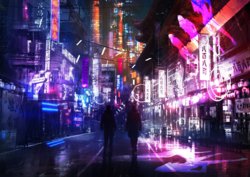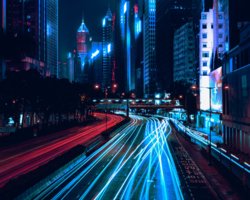 I'm also open to any ideas you might have as far as styles or adding things to the image, just so long as the girl and the bike remain.
Anyway, thanks for taking a look!
31