I will start this post the way i should have started the last:
The following pictures would be great if you could Photoshop my brother into them: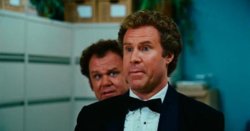 If you could Photoshop him into these pictures i would really appreciate it. In the first picture in replacement of either dumb or dumber, the second picture replacing dale at the back, the third picture hopefully photo shopping him in with the rest of the anchorman crew and the fourth replacing peter griffins face with his. That would be awesome, i would really appreciate the help guys but if its not possible dont worry.
Many Thanks
Matt
P.S - Feel free to let your creative juices flow if you have any better ideas like in the last thread.