Also known as "What have I done wrong..."
So I'm trying to get a nice pillowy font, which the "inflated" preset is supposed to offer, but instead I get this weird vanishing affair...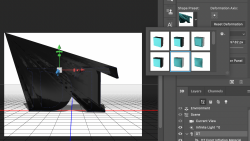 If I turn the view, the letters are still 3D, but the weird vanishing effect thing is actually a flat image coming up from the front face of the letters.
Testing all the other shape presets gives a mixture of either that standard preset, or this, so I have no idea what any of them are supposed to look like.
I've tried this in the context of the document I'm working on, and in a brand new document. I've tried completely closing everything, restarting... nothing seems to make it work like it's supposed to.
I don't know if it's relevant but I'm using latest Photoshop on latest MacBook Air with up to date software.