I have been editing a panorama for about 2 hours now, and just about finished when I used the spot healing brush and the image went crazy! I restarted photoshop as I thought it was just a software issue and when I did it was even worse, there are weird white boxes, and boxes of different parts of the image all over the place, on all layers, and now they seem to be saved permanently on my most recent save.
What on earth could have caused this? And is there any way I fix it? My autorecover folder is empty for some reason, even though I have it set to save every 10 minutes. But as the software didn't crash, and I also did a manual save (with different file name) I guess there is no way to recover it?
Anyone have any ideas?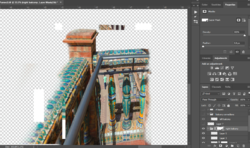 Last edited: