yeah i'm starting to get that little bit miffed with the noise in my camera, even at low ISO
all i get is noise and overexposure when in all honesty i don't think I'm doing anything wrong, the picture on the screen looks perfect but in on the PC i get a big noisy mess.
i think i'd get a bit better ideas from our awfully blunt people down on the photoforum, they seem too kept up with their "ooh look at me I'm rich" DSLRs to really take into mind my little point and shoot and up their own a**es to care about the very little self confidence and pride i have. and their Vbulletin is so annoying!
so anyway noisy shot number 1

that was High ISO so it would be noisier
but that's the worst case.
noisy shot number 2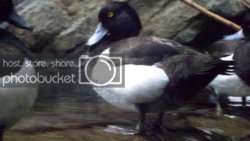 and it pretty much carries on like that, the ISO was 200 there i think, but even on 80 and 100 it's noisy, post processing doesn't remove it, how can i reduce the noise in my photos, it's only a little kodak Easyshare C713, and before you start saying, i will blame the camera, i've used a a canon camera before and on the same settings the images are noiseless.