Hello all,
I am wondering if, first of all, it is even possible to alter about a dozen photos I have of the outside of my house to remove the security bars over the windows, as if they were never there.
I know little about Photoshop, so I'm not sure if it's something that my child could do in 5 minutes, or if it's a task that would take hours for a pro, or if it's downright impossible.
My boss at work has Photoshop on his work laptop and he said the program can indeed be used for this, he just doesn't know how to do it. I guess my questions are:
Is this something that could potentially be accomplished by a relatively unskilled person with Photoshop, or is special skill with the program needed to do it correctly?
If a pro is needed, is the task of doing it correctly time consuming enough that it would fall within the realm of a paid job? I'm certainly not opposed to that option, by the way!
Any sort of guidance with this would be really appreciated here.
- Cris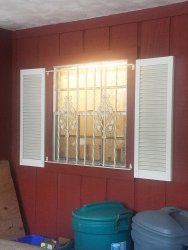 Mod edit: One image per request.