I am aware that PSE 8.0 is now an old version but it does pretty much what I want it to do and because I know my way around it quite well I am very reluctant to update to a newer version which would probably mean a steep learning curve. But I have recently encountered an annoying problem after what I think was a power issue during shutdown of the program. I am working with Windows 8.1 64bit on a desktop pc.
I am always working with JPEGs and when I want to save a file now, instead of offering the "copy" option as it used to do, the system comes up with the suggested file name prompt as shown here :

The original file had the name of APIX-WIP-2.jpg and the system has added the
-edited-3
I had saved this file twice before and the previous saved files ended
edited-1
and
edited-2
hence the
edited-3
If I want to completely change the name of the file as I used to be able to do then after editing the name I get the message shown here :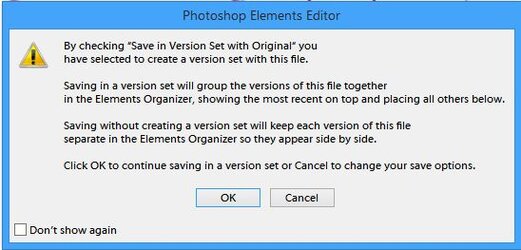 I have looked in Edit>Preferences>Saving files and I can't find anything that will allow me to change things back to how they were. I have received some really invaluable help from people on this site before and I am hoping that someone could come to my rescue again please. Any help or advice would be very much appreciated. Thank you.