Hello there, dear photoshop gurus.
I'd like to make a request (apparently), concerning the cover picture of a scientific Facebook group I run, by the name Schrödinger's pub. As is probably expected, my goal is to have Schrödinger photoshopped in a pub.
Lacking Photoshop skills, I've made my own modest attempts using MS paint, a process painstaking as well as fruitless for the most part. Even though I've created a satisfactory image, it still doesn't match what Photoshop can achieve. That's why I would like you, if you would be so kind, to Photoshop this sweet guy here:
Over this fabulous guy here: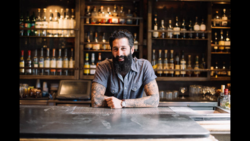 I cite below my own Paint creation to give an idea of what I have in mind. The missing part of the arm I recreated pixel by pixel, though I reckon Photoshop has easier methods for one to implement. Please ignore the right side part.
It should be noted that one issue I have with the picture below is its quality. Facebook's PC cover image size is large enough to discern individual pixels being messy at some spots. I reckon it's because of my inability to mix the images together well using Paint.