Add blank sheet of paper to family picture.
It should look like this (but with our whole family in it).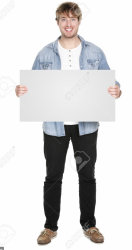 No need to reposition hands or make it look professional. Just add blank piece of paper, no message needed.
Thank you people expert in Photoshop. Grandma will be very happy if we have blank paper in photo to add message for birthday.
ORIGINAL FILE TO BE MODIFIED IS PHOTO-2021-06-01-20-52-00.jpg