Webmaster
Staff member
Administrator
We are working on rolling out a new feature on the forum, Thread Prefixes.
You have probably started to see them used in some sections of the forum. They look like this:

Thread Prefixes and designed to help with forum organization. They can be used to filter forums and can be combined with a keyword search to help users find what they are looking for. Each forum can have it's own set of prefixes, specific to that section.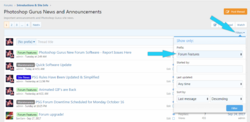 These prefixes will be used to categorize threads while allowing us to reduce the total number of forums, merging less active forums and combining more topics into a single forum.
The prefixes available now are being updated regularly, and are a bit of a work-in-progress to find what is going to work best for the forum.
Please consider using them when you are making a new thread.
If you have any suggestions on how to improve our use of these prefixes or would like to request a specific prefix be added to a forum, let us know here.
We'll take any feedback into consideration while updating the prefixes available in each forum.
Thanks for reading!