Hello, thank you all for the great work that you do!
I'd like to remove myself and my friend, plus his entire vehicle from this picture. There should only be my vehicle, on the right, without me.
This is the original photo
This photo is for reference, to help with the rear part of my vehicle... or something.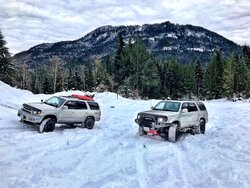 Thanks to everyone here, so much. You are all so great at what you do and I appreciate your work!