Hello,
I have created universal script that I could apply to bunch of photos in order to prepare for publication on Internet.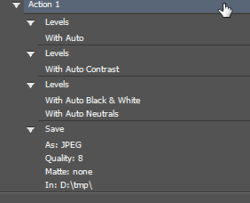 What else I could add in order to improve this script?
I found two options to automate script:
File->Automate->Batch
I'm getting following error in this script:
The command "Levels" is not currently available
Why and how to fix that?
File->Scripts->Image Processor
Works fine, but I prefer not open picture each time in order display on the screen. I suppose omitting display would increase performance. How to make script run in "silent" mode?
When I shud use
Batch
and when
Image Processor
Script runners?