Request
: Make this picture into a "No Limit" album cover?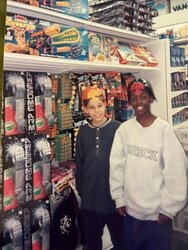 Context
: Getting married in ~12 days. This is a picture of me and my best friend/best man back in the day. Like many kids, we enjoyed the whole "No Limit" run and would buy albums/singles based on the covers. Had a random thought... how cool would it be to give him a fake album cover as funny "thanks for being my best man" gift. Ideally, I'd like to be able to print it 15"x"15".
Ideas
Album title: "Brothas from Anotha" or "Billionaire Brothas" (open to other ideas)
Graphics: Diamond text and in the background... dollars falling from the sky, nerf guns, G.I Joe vehicles, etc. "have fun"
Consideration: no drugs. I'd like him to be able to hang it in his living room and he has young kids.
Inspirational References: