Hi all:
Sudden problem with PS 2019.
I do a quick partial selection, then choose Select Subject. Then choose Select and Mask.
That brings me to the options dialog box.
If I don't make changes - or do - I then select Output to: New Layer with Layer Mask.
The mask shows up on the layer, but no masking occurs. If I try to paint on the mask, nothing happens.
Here's where the dialog box looks like:

Here's what the layer palette looks like: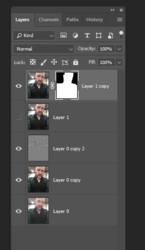 But the image isn't masked. I've check all my settings, I made no changes since yesterday when the mask was working, and now I can't get the mask to work.
Even if I choose Output to: Selection, the entire image shows up in the new layer with no masking.
If anyone has had the problem or can provide insight, please let me know. Highly frustrate and want to avoid download a fresh copy of PS.
If you need any other screenshots, let me know.
Thanks as always for your guidance and support!
- Jeff