Messages

2,077
Likes

1,942
Hi all
I am starting a side project to better understand skin coloring and how more methodically apply the information learned into photorestoration retouching/restoration work.
I know there are many different skin types / coloring that also depends on a number of factors (large natural variations e.g. genetics), physical temperature environment of the subject, color spectrum of the illuminating source, and also the colors on the subject adjacent to the skin.
I do have a read books and articles on this topic yet they all seem to boil down to the techniques that work for a given author (which certainly helps). Yet there are so many different variations of approach in technique, color space involved, and very subjective judgment calls, I am trying to see if I can analyze then synthesize an approach that might be easier and more consistent in approach/implementation as a starting point which of course will after that still come down to some judgement call while assuming one is working in a good color managed / calibrated / profiled system.
That said, I am looking for online sources of a diversity of good standard images with embedded color profiles from which to analyze the images and see if there is a path forward on my objective. If I get some interesting results, I would share in the tutorial section of the PS Gurus forums.
I became intrigued by some recent work on skin tones where I achieved a better result using Gradient Map Layer to implement to color changes of the skin with Luminosity. In sampling areas of the skin it was clear in this one case there was a good relationship that could be leveraged into a Gradient Map. I show the two images below of the 3D scattergram of the pixel colors in the device indepedent Lab color space. It did have an interesting correlations with the vertical axis of luminosity.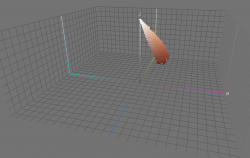 Thanks in advance for any help or related suggestions
John Wheeler