Before I got my own laptop, I used my family's MacBook that we've had for eight years. (I am a minor under my parents' care.) It's a terrible computer, but the trackpad was actually pretty good. I switched to a physical mouse the first chance I got, but that trackpad was surprisingly usable - I beat both Portal games with only the trackpad.
The only mouse that we had lying around the house was this Xoopar mouse (but this one had an AT&T logo engraved into it, not the Xoopar logo). I loved this mouse. It was a normal-sized slim mouse, but the scroll wheel was on the side and could be controlled with my ring finger, so it worked decently well even with my enormous hands. It had a white LED inside that glowed nicely when the mouse was in use, illuminating the sides and the AT&T logo on top. Here's a picture of the mouse: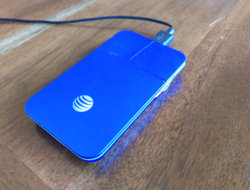 (Do you see the little scroll wheel on the side? That was amazing.)
No one else really used the physical mouse on the MacBook, so when I got my own HP laptop, I took the mouse with me. It served me well, and it felt very nice in my hand.
Unfortunately, this mouse recently broke. One of the internal pieces somehow got out, and it will no longer left-click. It will be missed.
Now I was left with my HP laptop's trackpad. My laptop is overall a great product, but the trackpad is awful. It is way too sensitive to my touch, there is lots of accidental movement, and it's very jittery. I can't stand it. It's nothing like the MacBook trackpad, and I cannot survive on this. I decided that I would buy another mouse IMMEDIATELY.
My parents wouldn't be paid for another couple of days, so we couldn't order online. Instead I used the physical cash in my wallet and got one at Shopko. If you've ever been to a Shopko Hometown, you probably know that the options are rather... limited. There were so few mouse options there that at first I didn't even see them at all. I was about to walk out empty-handed, but then at the last minute I saw that there were a couple mice available there. I was going to get a USB wired mouse, because I don't like dealing with an expensive wireless mouse that runs on battery power and doesn't always work properly. The only wired mouse they had was about the size of a golf ball. I have really big hands, and that would never work for me.
The only other mouse they had was a wireless Verbatim mouse with a nano receiver. I almost got the tiny wired one, just because I don't want to deal with batteries, delay, signal interruption, etc that a wireless mouse has. But the wired mouse was far too small, so I got the wireless one.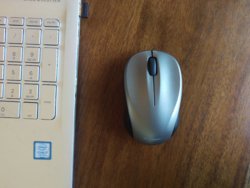 The signal delay and interruption are barely noticeable, and it performs no differently than a wired mouse would. It's quite a nice mouse, actually. But even this one is too small for my hands. I cannot use it comfortably, my hand drags on the desk, and it sometimes makes my hand ache after using it.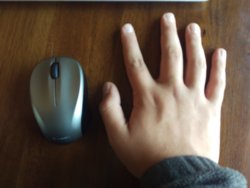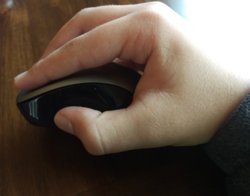 I can now look online for a new mouse because payday has come and gone. I was wondering... are there any mice that any of you would recommend, or prefer, or advise against buying? Should I consider a different mouse based on what I do with it (photo and video editing, some casual gaming)? Any overall comments on choosing or getting the most from a mouse? I think the one I've settled on is
this wired one
, which says it's 12.2 cm (4.8 inches) in length. Do you have any personal experiences with any particular computer mouse that you would like to share?