Hi all:
In working with an OP's image, I saw that my edit was different in tone working in PS, but when posted, looked similar to the original OP version. Just in depth. I'll also mention that it was posted as a grayscale image.
What I noticed is that when I had opened the image in PS, it converted it to an RGB image. No longer grayscale. Another image posted to the message turned up as sRGB. I assume this is how the software is set up to open the image. Although that confuses me a bit since the original image was grayscale and when I test opened it again, it converted it to RGB.
That raised a few questions in mind:
- Should you work in the OP's assigned profile only?
- If OP's orgiinal file is grayscale, should you convert to sRGB and then back to grayscale when done editing?
- What is the best profile to start work with - I've read that sRGB shouldn't be considered the industry standard?
- Since we're working online, should we work only in sRGB?
- If the OP states at the outset that they're going to print the final, should you post in Adobe RGB for a wider gamut? Even though the display would convert to sRGB?
And finally, what are the best color settings for Photoshop? I'm now working in the latest version and here is how I've set it up: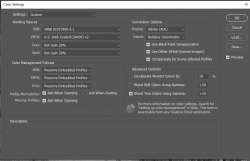 Thank you for all help and guidance. Standards and practice can often be at odds...
- Jeff