In general, I can do most simple things in Photoshop. But I have trouble getting really good selections on things like bird feathers. Or fur. I had hopes that Photoshop 2021 would make it easier to get really good selections. And it may, but if so, I lack the skills…
I've watched people make selections. I've read things on getting perfect selections. I've spent way more time in "Select and Mask" than it should take to not awful. I've watched Julieanne Koss make what looks like a pretty perfect selection of a mountain goat just using the Refine Edge Tool.
I can't even get CLOSE… As an example, I have an image of a hummingbird that seems like it should be pretty simple. And I want to drop a sky with clouds behind it. Not because I NEED one, but because if I can do THIS well, I should be able to get very good selections on at least slightly complex subjects.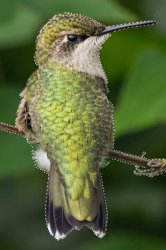 I did a Select Subject. Then I went into Select and Mask, put it on onion skin at 35%, and used the Refine Edge Brush at 70 px, 0 hardness, Spacing 20, to fix the feathers the selection missed around the head. I made it worse. I tried a larger brush and a smaller brush. Makes no difference. Trying to refine the feathers on the back of the birds head gets worse every time I touch it. Eventually, I end up resorting to the quick select, which usually doesn't help, and finally the lasso, and just brute force try to fix the worst of the mess created, and try to fix the worst of the small pieces of feathers that make up the edge. And on areas by the feet, where the feathers are finer, I never really get it very good. I've tried setting the Radius to 1 or 2 px. I've tried Decontaminate Colors at 25, 50, 75 and 100%.
I've attached an example, but I figure there HAS to be something obvious I'm missing in how to set up Select and Mask to get the great selections everybody keeps demonstrating.