However, I'd prefer if they were kind of on the same plane, if you will. Right now, Fox 2 looks a little lower.
In this image, Fox 2 has been moved up in the same base plane as Fox 1.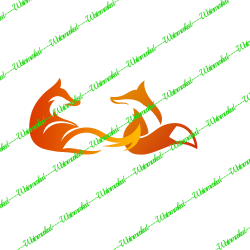 Also, on Logo 03 (the brown one with the brushstrokes), let's leave the distance as-is.
Sorry, I did not understand. Logo 3 is the one where we are discussing the stroke to be used
in Post #20
. Once that is finalised, I should retain the distance between the foxes - is that what you meant?