Hi everyone,
I'm almost finished repainting an old damaged photo, but now I have an issue of the completely destroyed face(s) on the right, that I can't repair using healing tools.
Luckily I could source another photo (not the same shot) from the same day (although the resolution isn't as high - so there is a loss of texture, plus it's not a "colorized" version).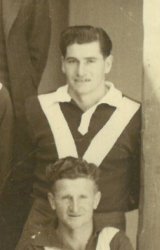 What would the best technique to use to try and blend the two images? Just fully crop/paste in the better face? Clone?
I lined them up underneath each other, but that's as far as I've gotten.
Thanks for any advice!