Hi, new to the M1 iMac, and to photoshop 2022.
have noticed occasionally that while I am working on an image, and some images I can seen hours on, photoshop 2022 will instantly and with out warning, flick to the background behind any thing else open, even if I still have my curse over the image, and then half a second later flick back. blink and I would miss it..
but strange behaviour that has never happened to memories me.
also when saving a photoshop file to disk, I usually do this once I have converted a Jpeg before I start serious work on it, I get a screen icon as below, that looks like a corrupted file. it will come right the second time I press save. Common S , Mac. but still disconcerting.
anyone else getting strange behaviour.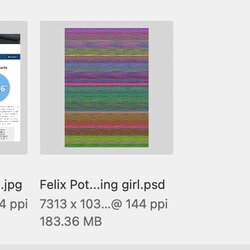 regards, Sandy