I am pleafully requesting your help in completing a charity fundraising project I am working on. I am creating a "Men of" calendar for the bar I used to work at in Hawaii, and it's 90% funny 10% sexy. All proceeds of calendar sales go to Planned Parenthood, so it's for a good cause!
I want the photo to look like he's just won the world's easiest marathon, so wanted to add in a "Finish" sign above him, and then also add some children/old people with walkers/etc behind him. It also needs to be touched up for basic visual aesthetics (brightness, colors, anything to make it look more professional), and cut to square size because the calendar will be printing 12x12. Also for this reason I need the added images to be high quality as well, enough that they can blow up and still look good.
It's a 2018 calendar so I am trying to get it done ASAP and I am stuck on this last photo Please please please help me out!!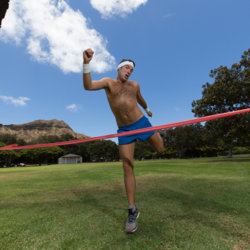 Thanks ahead of time
Last edited: