Here are just a few that I have done. Nothing special, just playing around. And just so that you know, the custom work on the car is real. And it's not all show. I did alot of suspention and power work. Dyno tuned and I have 58hp more than stock.
Before
I had put vinyl graphics on just to test if I liked it or not, I did. This is just after I did a full paint job. I laid out the graphics and painted them on.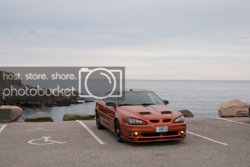 After
-
My granddaughters on the side of the truck. And the truck is not real, it's all PS'd. Along with every

thing right of the rock just over the hood.

I do have 3400K HID in my fog lights. They didn't look right in the original so I fixed them in PS. I should not have put the white line at the rear wheel, it looks out of place to me.
I hope that you can read the front bumper OK. lol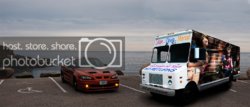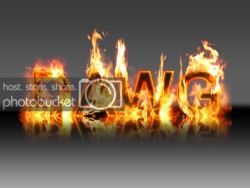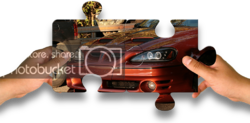 Another pic just after I did a full paint job on the car.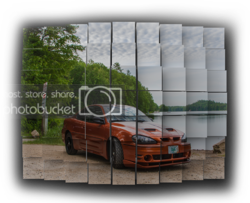 Another after the full paint job. The back was looking to plain so PS'd it. I like the hands, I may paint just one side one. And probably tilt the hand just a bit. I don't think I will paint the trunk lid or the graphics around the lower lights.
Oh and my 3rd brake light, it says DAWGFATHER when I step on the brakes.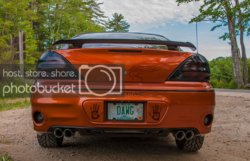 This is real, its just so you can see my 3rd brake light at night.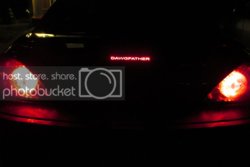 I have to show you under the hood. And yes I have my alternator, intake

manifold

and valve covers powder coated. Those are S&S headers w/full custom exhaust all the way back. TCE 65mm

throttle

body and the intake manifold is ported and polished. I also powder coated my American Racing rims as well. The car is

lowered

with custom suspension.
iiiiii