Groom's Friend's Wife's request:
Unfortunately we didnt get a picture with our friends on their wedding day (or one through the day before drinks were consumed haha). I was wondering if it'd be at all possible to get the bride and groom with myself and my partner.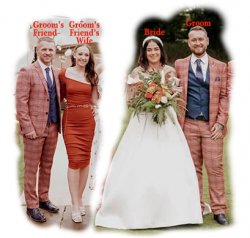 That is certainly possible, but the placements were not detailed. Maybe way too many drinks were consumed that day??
I have used
@Rich54
's work in the above image - thanks to him.