Hi all,
I hope someone is interested in taking this on. Payment will be by PayPal (the only service I'm familiar with) or Interac e-Transfer if you're in Canada. Payment starts at $30 USD and may increase to $50 if the solution given is high-quality, super-slick and accompanied with a short video I can refer back to later.
Deadline: 1 week once we agree to work together.
I'm trying to build a piece of real-world physical artwork which has a large number (5000+) of wooden dowels sticking out of a picture frame on the wall. The dowels will each be painted one of a selection of colours so that they form a pattern when viewed from a distance. I need to come up with a photoshop file that shows all the dowels with their respective colour so that I can do a "paint by numbers" job on the actual dowels. See attached for an example. This example only has around 7-9 colours in total if you can believe it!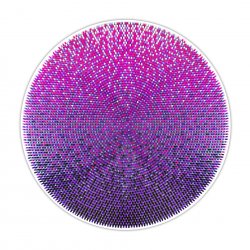 I'm looking for help with the following:
1. Taking a PNG file from Sketchup consisting of a grey background and several thousand small white circles which are arranged into concentric circles and importing into Photoshop (done - even I can manage this I have the PNG file I can supply).
2. Using the color range tool in Photoshop to select just the small white circles and creating a layer mask from them (done - as above - not too difficult, even for me - feel free to use your own method if it's better than mine).
3.
Needed:
Generating a selection of (say 10-15) good looking two-color gradients which use pleasing combinations of colors (simple task but some artistic ability in choosing complementary colors needed here)
4. Using the mask from number 2 to show the gradient across the circles (I've done this by simply drawing the gradient on a new layer then applying the layer mask from number 2 above)
Step 4 above means that each of the thousands of small circles contains many colours because each small circle actually shows its own gradient - being part of the larger gradient...
5.
Needed:
Make each individual circle's contents a single, solid colour, rather than a slight gradient. (no idea how to do this - hence signing up here. If the circles were arranged with a consistent spacing between them, a custom pattern fill and a filter-pixellate-mosaic might have worked).
6.
Needed:
Reduce the number of colours to 10 or less.
7.
Needed:
Add more tones/colours that work within the gradient to add texture. The attached example goes from black at the bottom through light purple in the middle, to pink at the top, but it uses a mid-grey and white to add that texture.
Deliverables:
Minimum ($30):
Photoshop file containing layers showing the selection of gradients created in step 3. Plus the simplified representations of these gradients with fewer colours, etc per the list above. Swatches for each gradient's colour palette.
Better ($10):
As above plus a step by step repeatable list of instructions that I can use in the future to create more of these myself.
Ideal ($10):
An action that can do the above. A video showing the process, etc.
Excited to see if someone is enthusiastic to take this on for a challenge! Please let me know any questions you might have!