Good night friends, how are you?
I'm new here, so if I'm doing something wrong, I'd like to advance my apology for my mistake.
Guys, I'm trying to do a tutorial and I locked it up part, and I need your help.
I do not know if it is my English that is bad, or if I did not understand the tutorial myself.
The tutorial is this one:
https://blog.designcrowd.com/article/971/how-to-turn-tom-cruise-into-an-alien-photoshop-tutorial
I stuck in that part that says:
"Coloring the lines. I want to give the lines some reddish modeling to indicate that there are blood vessels at the edges of the lines. So I'm going to add another adjustment layer with levels just like before. not to destroy the light values of the pixels in the image but rather change their color to my desired shade The way to do this is to take away the opposite of the color I am trying to add In this case I want a reddish color only I will take away green and blue. "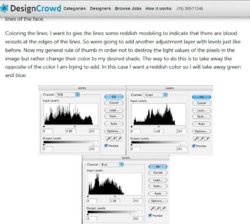 In that part of adding a layer of adjustment layer and removing the opposite color (which in the case are green and blue), to let the red color I want, I block and can not follow on the the tutorial.
Could someone explain me differently how to do this?
Or else
Can someone help me and explain to me how to do this part?
Thank you all!
Hugs!