Hey,
So I have near to Zero experience with Adobe Illustrator. But the only thing I know to do is Convert a Raster to a Vector using the "Image Trace" option.
So now, I had this Jpeg. I have converted it to a vector. But I don't know what to export it as. What file format should I export it as, so that people can view it in their Gallery? When I saved it as a EPS format, it opened up in AI. When I saved it as a SVG, it opens up in my browser.
So what do I save it as? And also, if y'all can explain what each format is in simple terms.
Thank you!
Edit: Also, why is the main document size so small as compared to the Image that I imported? How do I make it the size of the image?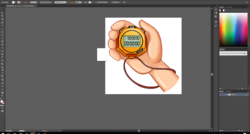 Last edited: