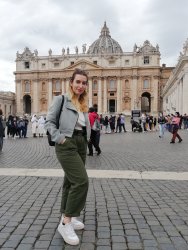 Hi everyone! I would like to have removed the person in the bright red shirt right behind me. I've been trying to retouch the photo on my own but it was so hard to clone and fix the ground in order to respect the geometry of the stones. So I really need the help of an expert!
If possibile i would like to have removed also the girl in the pink shirt and with a mask walking on the right side of the picture.
I don't expect to have removed all the people in the background bc it would be too way complicated.
Thanks in advance!