I'm trying to print a photoshop file on my Epson xp-970. This warning pops up:
ColorSync color matching may produce different results than printer color management. Either Photoshop color management or printer color management is recommended.
In photoshop printer manages color is selected because that is what I want.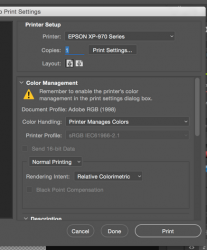 In the printer dialogue box there are no options for color management or anything related to color. In the drop down menu I have Media & Quality, Layout, Paper Handling, Cover Page, and Supply Levels.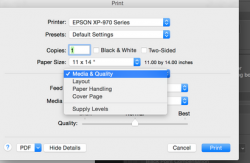 I want to print with Printer manages colors. I dont want ColorSync to do anything. I have googled this all over, and have no idea how to fix this.
I reinstalled the epson drivers. I deleted the printer from the apple system preferences. I added the printer back onto the apple system preferences. I updated all the Epson software. I need some help to fix this. The printer was working perfectly fine until yesterday.
I'm on a Mac OSX 10.10.5
Thank you for any help you can offer!